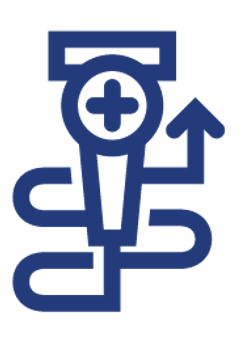 Colonoscopy is a safe, 15- to 30-minute outpatient procedure that allows your physician to examine the lining of the entire colon (large bowel) using a flexible instrument called a colonoscope. Early cancers can be detected and easily removed during the procedure, avoiding invasive surgery and saving lives in the process.
This procedure may be recommended for you if you are 45* or older, have experienced certain colon cancer warning signs or symptoms, if you have an inflammatory bowel disease (IBD) or if you have a history of colon polyps or a close relative with a history of colon cancer.
Don't Wait. Contact us today to discuss colon cancer prevention and screening options.
Contact us today to speak with a Borland Groover Specialist.
Why Colonoscopy?
Colonoscopy is the only colon cancer screening method that allows your gastroenterologist to visualize the entire colon and remove most polyps at the same time. That's why colonoscopy is widely considered to be the gold standard in colon cancer screening and prevention. In fact, colonoscopy is rated above all other colorectal cancer screening methods by the American Cancer Society and the three leading gastroenterology associations.
What is an at-home stool test?
The at-home colon cancer test is a type of colorectal cancer screening that uses DNA analysis to find altered DNA associated with some colon cancers and very few polyps.
Stool-based colon cancer screening is less effective than colonoscopy, with1:
A 58% miss-rate for advanced adenomas
An 8% miss-rate for colon cancer (1 in 13 patients)
A 13% false positive rate
Positive results must be followed up with a diagnostic colonoscopy, leading to more time and expense for the patient.
Negative results must be followed by a repeat test in 3 years.
Patients with the following risk factors are not candidates for the at home stool test:
A personal history of colon cancer or polyps
A family history of colon cancer
A positive result from another colon cancer test within the last 6 months
How to prepare for your colonoscopy.
Your colon must be completely clean for the procedure to be accurate and complete. Your gastroenterologist will provide you with detailed instructions regarding specific dietary restrictions and preparation to be followed prior to your test. In general, our clinical staff will provide you with prep instructions, where to obtain your prep solution and when to start the process.
Let your physician know of any medications, major illnesses or allergies so that you can also be given instructions about these prior to the procedure.
Please follow all instructions carefully. For more details about preparing for your colonoscopy, click here.
What to expect during
Upon your arrival at the Endoscopy Center, you'll be registered during the check-in process and given a consent form to read and sign. A clinical staff member will call you back to the pre-op area to prepare you for your colonoscopy. Your nurse will have you change into a gown, take your vitals and make sure you are comfortable. Next, our anesthesia staff will start an IV as sedation may be administered prior to your colonoscopy by our trained, certified registered nurse anesthetists, supervised by our anesthesiologists.
While lying on your side, a flexible instrument called a colonoscope will be inserted into your rectum and advanced carefully through your colon. Your gastroenterologist will then examine the lining of your bowel for polyps, lesions or cancerous growths.
If an abnormal area is seen, a biopsy of the area may be taken and prepared for pathology review. Your physician will provide the pathology results to you as soon as they are available.
The removal of high-risk colon polyps (abnormal growths) is an important means of preventing colorectal cancer. Tiny polyps may be totally destroyed by fulguration (burning), but any larger polyps will be removed through a painless technique called snare polypectomy in which the doctor passes a wire loop (snare) through the colonoscope to remove the attached polyp from your intestinal wall.
What to expect after
After the colonoscopy, you'll be monitored for 30 to 60 minutes until you are awake and alert. You may feel bloating or cramping immediately following the procedure because of air introduced into your colon during the test.
Your gastroenterologist will speak to you afterward but you may not remember this. Therefore, with your consent, your physician will also speak with the person driving you home and our nurse will give you written instructions and the results of your procedure. Please plan to be at the Endoscopy Center for approximately 2 to 3 hours total.
Because of the sedation used, someone must drive you home following your procedure and you will be asked not to drive for the rest of the day. Most patients are allowed to resume their normal diet after leaving the Endoscopy Center.
A full report will be sent to your primary physician in a few days. Please call us immediately if you develop a fever, significant pain or bleeding following your colonoscopy.
Possible complications
Colonoscopy is considered a safe procedure and complications are rare. However, as with any procedure, it's important that you understand all associated risks. Make a list of questions and be prepared to talk to your physician about your colonoscopy.
For information on Borland Groover colonoscopy insurance coverage and billing, click here. 
*New recommendations by the American Cancer Society states screening should begin at age 45 for people at average risk. Please check with your insurance provider for coverage options for colon cancer screening before the age of 50. Most insurance companies, as well as Medicare and Medicaid, cover procedures based on recommendations made by the U.S. Preventive Services Task Force (USPSTF). The USPSTF recommends screening starting at age 50.
1Imperiale T, Ransoho_D, Itzkowitz S, et al. Multitarget Stool DNA Testing for Colorectal-Cancer Screening. New England Journal of Medicine, 2014;370:1287-1297. https://www.nejm.org/doi/full/10.1056/nejmoa1311194.