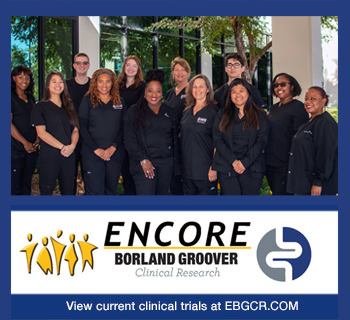 Why participate in a Borland Groover clinical trial? During the clinical trial you may: 
gain access to new drugs years before they become commercially available - at no cost,
receive additional education about your condition and   
help advance the science of medicine
C. Difficile
Colorectal Polyp Detection Decision Device during Colonoscopy (Artificial Intelligence) 
Crohn's Disease
Encephalopathy Decompensation Delay in Cirrhosis (Red-C)
Eosinophilic Esophagitis (EOE)
Exocrine Pancreatic Insufficiency 
Gastroparesis
GERD
Irritable Bowel Syndrome (IBS)
NERD
NASH 
Prevention of Colorectal Cancer
Primary Biliary Cholangitis (PBC)
Complete the form below or contact us at 904-680-0871 for more information. Learn more about Encore Borland Groover Clinical Research (EBGCR)
Participate in clinical research at Borland Groover. Borland Groover clinical research opens new doors to finding ways to diagnose, prevent, treat or cure diseases and disabilities, volunteer participation is essential in helping us continue to find new and better treatment options for gastrointestinal conditions.

For more information about our research and clinical trials or if you have any questions contact us.