Mary Barbara
,
MD
Gastroenterologist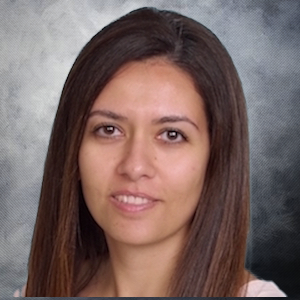 Dr. Barbara earned her medical degree at Damascus University Faculty of Medicine in Syria. Following her medical education, she pursued a residency in Internal Medicine at Rochester Regional Health System in New York. Dr. Barbara completed her gastroenterology fellowship at Beth Israel Deaconess Medical Center/Harvard Medical School in Boston, MA. She also did advanced training in Hepatology and Liver Transplant at Baylor College of Medicine in Houston, TX.
Dr. Barbara has published numerous articles in peer reviewed journals. Her research work was presented in national and international conferences.
Dr. Barbara's clinical interests include liver diseases, motility disorders and colon cancer screening. Dr. Barbara is a member of the American College of Gastroenterology, American Gastroenterological Association, The American Association for The Study of Liver Disease and The American Society of Gastrointestinal Endoscopy.
In her free time, Dr. Barbara loves to travel. She also enjoys outdoor activities, exercising, and reading.
Postgraduate Education
Gastroenterology Fellowship
Beth Israel Deaconess Medical Center/Harvard Medical School
Hepatology and Liver Transplant Fellowship
Baylor College of Medicine
Internal Medicine Residency
Rochester Regional Health System
Publications
1.     Barbara M, Mindikoglu AL. The Role of Zinc in the Prevention and Treatment of Non-alcoholic Fatty Liver Disease. Metabolism Open, 2021 Jun 29;11:100105. PMID: 34337376.
2.     Barbara M, Dhingra S, Mindikoglu AL. Liagandrol (LGD-4033)-Induced Liver Injury. ACG Case Rep J. 2020 Jun; 7(6): e00370. PMID: 32637435.
3.     Barbara M, Dhingra S, Mindikoglu AL. Drug-Induced Liver Injury Associated with Alpha Bolic (RAD-140) and Alpha Elite (RAD-140 and LGD-4033). ACG Case Rep J.2020 Jun; 7(6): e00409. PMID: 33062783.
4.     Annunziata G, Imai M, Barbara M. A case of Idiosyncratic Liver Injury Due to Levocetrizine. ACG Case Rep J.2019 Aug; 6(8): e00191. PMID: 31737721.
5.     Tsen Adrianne, Barbara M, Rosenkranz L. Dilemma of Elevated CA 19-9 in Biliary Pathology. Pancreatology. 2018 Dec;18(8):862-867. PMID: 30249386.
6.     Barbara M, Tsen A, Rosenkranz L. Acute Pancreatitis in Chronic Dialysis Patients. Pancreas. 2018Sep;47(8):946-951. PMID: 30113429. 
7.     Barbara M, Scott A, Alkhouri N. New Insights Into Genetic Predisposition and Novel Therapeutic Targets for NAFLD. Hepatobiliary Surg Nutr. 2018, Dec;18. PMID: 30498712.
8.     Barbara M, Rosenkranz L. Talking Genes in Breast and Pancreatic Malignancies. Mater Sociomed. 2019 Jun;31(2): 146-149