Linda Ann Di Teodoro
,
MD
Gastroenterologist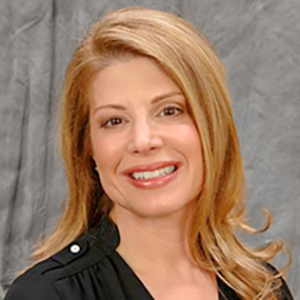 My name is Dr. Linda Ann Di Teodoro. I am from Staten Island, New York with a strong Italian American heritage.
After graduating from Wagner College with my registered nurse license, I entered medical school at St. George's University. Following medical school, I relocated to Syracuse, New York for my internal medicine residency. My four years ended with the privilege of being a chief medical resident for Upstate University Hospital. My love for gastroenterology lead me to Jacksonville, Florida in 2004, where I commenced a gastroenterology fellowship at University of Florida. I then joined Mayo Clinic in 2007 to become a board certified transplant hepatologist. After Mayo Clinic, I joined the greatest gastroenterology practice, Borland Groover in 2008. I have board certifications in both gastroenterology and transplant hepatology.
Baptist Medical Center Jacksonville is the hospital I am assigned to. Being involved in the central hub of the Baptist Health system, I provide care to high complexity of patients. I am currently the chair of medicine of the department of medicine. I am involved in many committees such as: voting member of the CME committee, Pharmacy and Therapeutic committee and Women in Medicine.
Because of my family and personal plans, I travel to New York City many times per year. I am very close to my nieces and nephew. Both Jacksonville, Florida and New York City are my homes. The Assumption Catholic Church is my parish and place of worship. As an avid animal lover, I support The Humane Society and ASPCA. I am the biggest Jacksonville Jaguar football fan and attend all home games!
I enjoy spending time with family and friends. My recreational activities include cross training, running, yoga, movies and traveling. I am a very enthusiastic Gate River Run participant! Recently my niece and I visited Abruzzo Italy, which is The Di Teodoro family birthplace.
Postgraduate Education
Fellowship, Hepatology and Liver Transplant
Chief Gastroenterology Fellow
University of Florida Health Science-Center/Jacksonville
Fellowship, Gastroenterology
University of Florida Health Science-Center/Jacksonville
Chief Resident of Internal Medicine
SUNY Upstate Medical University
Residency in Internal Medicine
SUNY Upstate Medical University
Internship in Internal Medicine
SUNY Upstate Medical University
Publications
Di Teodoro, L.,  McNeil, R., Dickson, R., Pungpapong, S., Aranda-Michel, J. Keaveny, A., Is Obesity Associated with An Increased Risk of Morbidity and Mortality In Patients With End Stage Liver Disease Referred for Liver Transplantation? Poster Presentation 44th Annual Meeting of the European Association for the Study of the Liver 2009.
Pudhota, S., Di Teodoro, L.,Vega, K., Wludkya, P., Bullock, D., Lambiase, L., Ultrasound Marking Improves Percutaneous Liver Biopsy. Poster Presentation. American College of Gastroenterology 73rd Annual Meeting 2008.
DiTeodoro, L., Habashi, S., Lambaise, L., Ultrasound Marking Improves the Yield of Percutaneous Liver Biopsy. Platform and Poster Presentation. University of Florida HSC @ Jacksonville FL Research Day 2007 (Platform Presentation 4th Place Award)
DiTeodoro, L., Habashi, S., Lambaise, L., Ultrasound Marking Improves the Yield of Percutaneous Liver Biopsy. Platform and Poster Presentation. North American Conference of Gastroenterology Fellows 17th Annual Meeting 2007
DiTeodoro, L., Reddy, S., Vega, K.J., Gastrointestinal Manifestations of Ovarian Hyperstimulation Syndrome: Case Report. Poster Presentation. American College of Gastroenterology 71st Annual Meeting 2006
DiTeodoro, L., Reddy, S., Vega, K.J., Gastrointestinal Stromal Tumor: An Atypical Presentation of Upper Gastrointestinal Bleeding: Case Report. Poster Presentation. American College of -Gastroenterology 71st Annual Meeting
DiTeodoro, L., Munoz, J.C., Lambaise, L., Vega, K.J. Ethnicity and Gender are not Predictors of In Hospital Mortality For Patients with Initial Esophageal Varicael Hemorrhage. Platform And Poster Presentation. 41st Annual Meeting of the Florida Gastroenterological Society Practical Gastroenterology Update 2006
DiTeodoro, L., Munoz, J.C., Lambaise, L., Vega, K.J.: Ethnicity and Gender are not 
Predictors of In Hospital Mortality For Patients with Initial Esophageal Varicael Hemorrhage.  Poster Presentation.  Digestive Disease Week (DDW) 2006
DiTeodoro, L., Munoz, J.C., Lambaise, L., Vega, K.J.: Ethnicity and Gender are not 
Predictors of In Hospital Mortality For Patients with Initial Esophageal 
Varicael Hemorrhage.  Poster Presentation.  University of Florida HSC @ Jacksonville FL Research Day 2006 (Poster Presentation 5th Place Award)
Nandi, J., Di Teodoro, L.,Ahmed, F., Levine, R.A.: Inhibition of iNOs           Transcription Improves Indomethacin- Induced Enteropathy In Rats.  FASEB Journal 15 
(Number 4, Part 1): A241, 2001