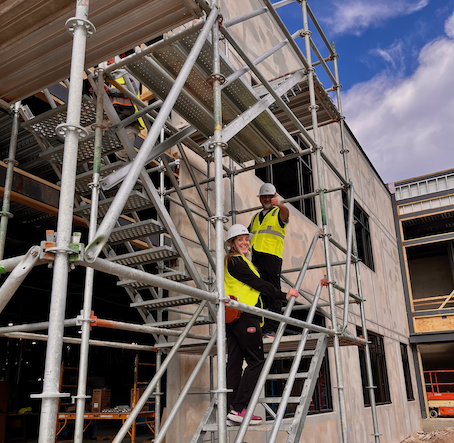 As we make progress on this state-of-the-art facility, we are eager to provide our community with the highest quality healthcare services. We are committed to raising the bar in patient care and ensuring that you receive the best medical attention possible. Recently, our Vice President, Dr. Comar, and his clinical lead, Aly, paid a visit to the Durbin Crossing Endoscopy Center, and they couldn't be more excited about the strides we've made.
This new facility, spanning an impressive 38,000 square feet, is poised to become a hub for advanced gastroenterology care. It's conveniently located at 150 Longleaf Pine Pkwy, making it easily accessible for our valued patients.
Here's a sneak peek of what you can expect from the Borland Groover Durbin Crossing Endoscopy Center:
State-of-the-Art Ambulatory Surgery Center: The first floor will feature a cutting-edge ambulatory surgery center equipped with seven procedure rooms. These facilities are designed to provide the highest level of care and comfort for our patients.
Spacious Medical Office Exam Rooms: On the second floor, you'll find an impressive array of thirty-two medical office exam rooms. These well-appointed spaces will be where our dedicated medical professionals provide personalized care to our patients.
New Job Opportunities: We are proud to announce that this expansion will create approximately 75 competitive wage jobs in the area. This not only reflects our commitment to enhancing healthcare but also our dedication to boosting the local economy.
Thank You to Our Vendors: We want to extend a special thanks to our vendors for their unwavering support and dedication in pushing this project along. Their partnership has been invaluable in making this dream a reality.
Stay tuned for more updates as we get closer to the grand opening of the Borland Groover Clinic and Durbin Crossing Endoscopy Center! Together, we are building a healthier future for our community. #HealthcareMilestone #CommunityCare #BorlandGrooverCare. #45IsTheNew50 #DurbinCrossingEndoscopyCenter