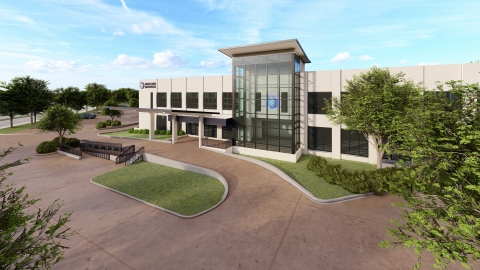 JACKSONVILLE, Fla. – Borland Groover, North Florida's leading gastroenterology provider, announces their newest technologically advanced surgery center and medical facility will open in early 2023, in Orange Park. The new location will bring approximately 50 competitive wage jobs to the area.
The 29,000 sq ft. facility is located at 805 Wells Road in Orange Park. The first floor will feature an ambulatory surgery center with five procedure rooms, and the second floor will house 29 medical office exam rooms with a three-chair infusion suite.
"I am delighted to announce that we are growing our footprint once again to offer even more top-tier medical expertise and resources with yet another surgery center facility in Northeast Florida. Community and quality care are top priorities and part of our core value system at Borland Groover, so we are excited to expand and offer leading gastroenterology care to Clay County residents," said Dr. Kyle Etzkorn, CEO of Borland Groover.
The ambulatory surgery center is the fourth surgery center location in North Florida owned and operated by Borland Groover gastrointestinal specialists and United Surgical Partners International. The five procedure rooms feature state-of-the-art endoscopy equipment to provide patients access to the latest endoscopic advances for minimally invasive procedures, including colonoscopies.
All Borland Groover physicians are board-certified in gastroenterology to provide full-service care for everything from common digestive health issues to complex conditions, including colorectal cancer, irritable bowel syndrome (IBS), Crohn's disease, ulcerative colitis, acid reflux or GERD, liver disease, motility disorders and more.
About Borland Groover
Founded in 1947, Borland Groover has grown into one of the largest gastroenterology clinics in the United States. Borland Groover offers cutting edge, new treatments in digestive diseases and is pioneering innovative interventional techniques which previously required general surgery. In addition, the clinic has been and will always be involved in research pharmacologic treatments to find a cure for disease. Borland Groover performs procedures such as colonoscopy, upper endoscopy, endoscopic ultrasound and biliary endoscopy (ERCP). For more information, please visit www.borlandgroover.com and follow us on Facebook, Twitter, Instagram and LinkedIn (@BorlandGroover).