Our allergy testing and treatments are designed to get you feeling better as soon as possible, with same-day allergy testing to quickly understand what's causing your discomfort. Once your allergy testing is completed, you'll receive a personalized treatment plan for your allergies.
We are located in Orange Park and in the Bartram Park area of Jacksonville. You can have your allergy shots administered at either location.
Watkins Allergy and Asthma Clinic can perform allergy tests to help reveal the "triggers" that cause your allergy symptoms. Many of the tests provide results on the same day.
Common allergy "triggers" we test for include:
Celiac Disease
With celiac disease, consumption of gluten causes damage to the lining of the small intestine and consequently prevents adequate absorption and digestion of nutrients. While technically an autoimmune disorder, a plan for celiac disease can be discussed at our allergy clinic.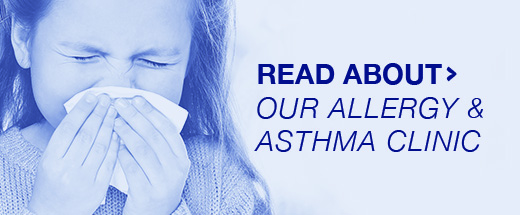 Symptoms
Abdominal pain
Cramps
Gas
Bloating and diarrhea with weight loss
Treatment
A gluten-free diet is effective in treating celiac disease.