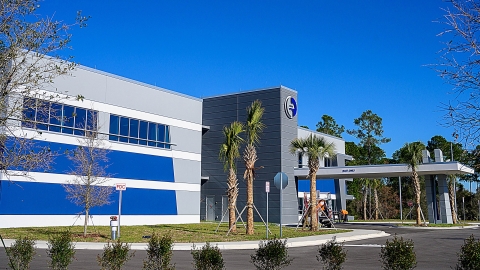 JACKSONVILLE, Fla. (Feb. 11, 2022) – Borland Groover, North Florida's leading gastroenterology provider, announced the grand opening of its newest state-of-the-art medical facility in St. Johns County. The 26,000 sq. ft. facility, located at 40 Groover Loop in St. Augustine, features a 13,000 sq ft. ambulatory surgery center on the first floor and 30 medical office exam rooms on the second floor. Grand opening activities included a ribbon cutting and an open house reception on February 9. The St. Augustine Endoscopy Center will be open for in-clinic consultations and visits beginning February 14. The ambulatory surgery center will open for its first procedure on February 21.
"I am thrilled to announce the opening of the St. Augustine Endoscopy Center. The new facility is equipped with the most advanced technology and equipment available to ensure our patients have even more access to the best comprehensive, cutting-edge medical care." said Dr. Kyle Etzkorn, CEO of Borland Groover.
The ambulatory surgery center is the third surgery center location in North Florida owned and operated by Borland Groover gastrointestinal specialists and United Surgical Partners International. It houses four procedure rooms and brand new, state-of-the-art endoscopy equipment to provide patients access to the latest endoscopic advances for minimally invasive procedures, including colonoscopies.
The medical office space on the second floor holds 30 exam rooms and an expanded four-chair infusion suite to better serve Borland Groover's infusion patients in St. Johns County. All Borland Groover physicians are board-certified in both gastroenterology and internal medicine to provide full-service care for everything from common digestive health issues to complex conditions, including colorectal cancer, irritable bowel syndrome (IBS), Crohn's disease, ulcerative colitis, acid reflux or GERD, liver disease, motility disorders, and more.
To schedule an appointment at the St. Augustine Endoscopy Center or any of Borland Groover's other locations, call 904.398.7205. For more information about Borland Groover, visit www.borlandgroover.com.
About Borland Groover
Founded in 1947, Borland Groover has grown into one of the largest gastroenterology clinics in the United States. Borland Groover offers cutting edge, new treatments in digestive diseases and is pioneering innovative interventional techniques which previously required general surgery. In addition, the clinic has been and will always be involved in research pharmacologic treatments to find a cure for disease. Borland Groover performs procedures such as colonoscopy, upper endoscopy, endoscopic ultrasound and biliary endoscopy (ERCP). For more information, please visit www.borlandgroover.com and follow us on Facebook, Twitter, Instagram and LinkedIn (@BorlandGroover).
About the Ribbon Cutting
A ceremonial ribbon cutting by the St. Augustine physician team, Vice President Dinesh Madhok, M.D., Vice President Kevin Comar, M.D., COO of Ancillary Jackie Kennedy, CEO Kyle Etzkorn, M.D., and Zena
Groover, wife of the late Jack R. Groover, M.D., who founded Borland Groover, took place February 9. A representative of Congressman Mike Waltz presented a framed U.S. flag to commemorate the occasion. The event included an open house with self-guided tours of the first-floor procedure rooms, pre- and post-operation rooms and nurses' station. The second-floor tour areas were medical office exam rooms and the infusion suite. Light refreshments and music created a welcoming atmosphere as did décor highlighted by a balloon sculpture at the building entrance. Vendors included Old City Occasions, By Design Catering, The Perfect Pour, Bellavista Photography, UNF Jazz Combo, All About Events and K's Cookie
For more information, please visit www.borlandgroover.com and follow us on Facebook, Twitter, Instagram and LinkedIn (@BorlandGroover). Photo by St. Augustine Record