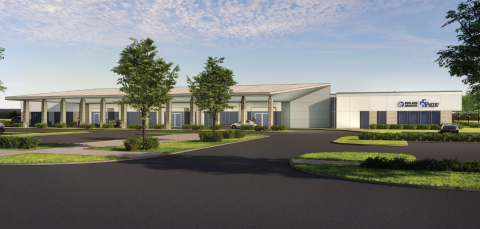 Jacksonville, Fla. (Sept.1,2023) – Residents in the rapidly growing central and western areas of Nassau County will soon have access to Nassau Crossing Endoscopy Center, where they can get the most advanced colonoscopies and upper endoscopies in a convenient, patient-centered environment.
The 20,000-square-foot Borland Groover Medical Office and Nassau Crossing Endoscopy Center will open in fall 2024 within the new Baptist Nassau Crossing Medical Campus located in Yulee, just east of I-95 on State Road 200. The Borland Groover medical office will offer 12 exam rooms and expanded infusion services providing treatment to patients with autoimmune disorders, such as Crohn's disease, ulcerative colitis, plaque psoriasis and rheumatoid arthritis for Nassau County residents.
Of particular importance will be the ability for residents to get expert screening and diagnostic colonoscopies at this easily accessible Borland Groover location. Colon cancer screenings can detect cancer in its early stages, when survival rates are about 90%. The American Cancer Society recommends colonoscopies starting at age 45, or younger if there is a history of colon cancer in the family. 
"We are thrilled to join forces with Baptist Health and introduce this remarkable center that will provide patients with the highest quality care from our dedicated providers and staff," said Dr. Kyle Etzkorn, CEO of Borland Groover. "This collaboration exemplifies our shared commitment to delivering exceptional health care services that are accessible, comprehensive, and patient-focused. By expanding our reach, we aim to enhance the quality of care and improve the lives of our patients in Nassau County and beyond."
Baptist Health broke ground in March 2023 on the Baptist Nassau Crossing Medical Campus, which in addition to the endoscopy center, will house a freestanding Baptist & Wolfson Emergency Center, as well as outpatient imaging, primary care, behavioral health, and specialty physician offices. The 56,588-square-foot campus is designed for future expansion to serve the growing needs of the community.
"Baptist Health has always been committed to making high-quality health care easily accessible to the community," said Catherine Graham, MSH, senior vice president of clinical service lines and ambulatory business development at Baptist Health. "Baptist Nassau Crossing Medical Campus will be a convenient hub with a wide range of medical services for all ages." 
Baptist Nassau Crossing Medical Campus is located about 13 miles east of Baptist Medical Center Nassau, an award-winning hospital serving the Nassau County and Southeast Georgia communities for nearly three decades.
"Baptist Health is committed to providing a total system of adult and pediatric care for everyone in our community," said Ed Hubel, FACHE, hospital president of Baptist Medical Center Nassau. "It's been incredible to see the growth here in Nassau County, and we appreciate residents' trust in us to help make the community an even healthier place to live."      
##
About Baptist Health
Baptist Health is a faith-based, mission-driven system in Northeast Florida comprised of Baptist Medical Center Jacksonville; Baptist Medical Center Beaches; Baptist Medical Center Clay; Baptist Medical Center Nassau; Baptist Medical Center South and Wolfson Children's Hospital – the region's only children's hospital. All Baptist Health hospitals have achieved Magnet™ status for excellence in patient care. Baptist Health is part of Coastal Community Health, a highly integrated regional hospital network focused on significant initiatives designed to enhance the quality and value of care provided to our contiguous communities. Baptist Health has the area's only dedicated heart hospital; orthopedic institute; women's services; neurological institute, including comprehensive neurosurgical services, a comprehensive stroke center and two primary stroke centers; a Bariatric Center of Excellence; a full range of psychology and psychiatry services; urgent care services; primary and specialty care physicians' offices throughout Northeast Florida; and Baptist Home Health Care by BAYADA. The Baptist MD Anderson Cancer Center is a regional destination for multidisciplinary cancer care, which is clinically integrated with the MD Anderson Cancer Center, the internationally renowned cancer treatment and research institution in Houston. For more details, visit baptistjax.com.
About Borland Groover
Founded in 1947, Borland Groover has grown into one of the largest gastroenterology clinics in the United States. Borland Groover offers cutting edge technology, new treatments in digestive diseases and is pioneering innovative interventional techniques that were previously required in general surgery. In addition, the clinic has been, and will always be, involved in research pharmacologic treatments to find a cure for disease. Borland Groover performs procedures such as colonoscopy, upper endoscopy, endoscopic ultrasound, and biliary endoscopy (ERCP). For more information, please visit www.borlandgroover.com and follow us on Facebook, Twitter, Instagram and LinkedIn (@BorlandGroover).