John Petersen
,
D.O., F.A.C.P., F.A.C.G.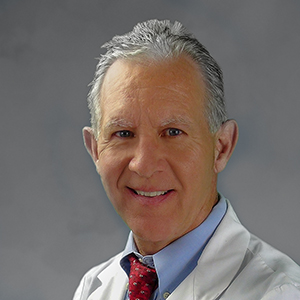 Dr. Petersen joined Borland Groover in July 2003, having served on the University of Florida (Gainesville) GI/liver faculty for three years and in private practice in Fort Myers for 15 years. He has established himself as a regional expert in diagnostic and therapeutic endoscopy and has special skills and experience in ERCP and endoscopic ultrasound. He has offices at our Southside facility near St. Lukes hospital, as well as at the downtown Pavillion office with Baptist Medical Center.
Dr. Petersen is a dedicated research clinician who has completed numerous phase II and phase III research studies, and is a member of the Borland Groover clinical research group. Dr. Petersen is a Cleveland Clinic and Yale trained clinician with endoscopic skills in double balloon enteroscopy exams of the small intestine, endoscopic mucosal resection of masses in the GI tract, advanced diagnostic and therapeutic ERCP with Sphincter of Oddi manometry, spyglass cholangioscopy, HALO treatment of Barrett's esophagus, and the anti-reflux endoscopic technique termed STRETTA.

Do you have Chronic Acid Reflux? View the videos below to learn more about Dr. Petersen's experience with the TIF Procedure, gastroparesis and more.
Postgraduate Education
Residency, Internal Medicine
Senior Chief Resident of The Year
Member, Residency Selection Committee
Fellowship, Gastroenterology & Hepatology
Yale University School of Medicine
Publications
Petersen, JM, Forsmark, CE, Complications of chronic pancreatitis,  Pancreatitis and its complications, (chapter 16, p.313-332) Humana press, Chris E. Forsmark, (Editor), 2004
Petersen, JM, Forsmark, CE, Chronic pancreatitis and maldigestion, Seminars in Gastro-intestinal disease, 13:191-197, 2002
Petersen, JM, Tropical Pancreatitis, Clinical Gastro., 35:61-66, 2002
Petersen, JM, Surgical clip choledocholithiasis, Gastroint. Endoscopy 56:113, 2002
Petersen, JM, Gunshot Cholecystitis, J Clin Gastro. 21:320-322, 1995
Petersen, JM, Barrett's Esophagus, ASGIA Newsletter March, 1995
Petersen, JM, Managing Upper Gastrointestinal Motility Disorders:  Applications in the Osteopathic Practice - Symposium proceedings. Upper GI Motility Disorders:  The Differential Diagnosis, Jnl of the Amer Osteo Assn. (Supplement), Vol. 95, No. 8, 21-27 1995
Helzberg, JH, Petersen, JM, Boyer, JL, Improved Survival with Primary Sclerosing, Cholangtis. A Review of Clinicopathologic Features and Comparison Of Symptomatic and Asymptomatic Patients. Gastroenterology 92:1869-1875, 1987
Petersen, JM, Views on Management of Acute Pancreatitis, (Letter), Jnl Amer Osteo Assn.,  86:767-768, 1986
Petersen, JM, McCallum, RW, Modlin, IW, The Medical and Surgical Approach to Gastroesophageal Reflux, Practical Gastroenterology, January 1986
Petersen, JM, Tubbs, RR, Savage, RA, Calabrese, LC, Profit, MR. Manolova, Y, Shumaker, A, Tatsumi, E, McClain, K, et al. Small Non-Cleaved B-cell Burkitt-like Chromosome Translocation (8:14) and Epstein-Barr Virus Nuclear-Associated Antigen in a Homosexual Man With AIDS, Am J Medicine 78:141-148, 1985
Petersen ,JM, Ferguson, DR, Gastrointestinal Neurofibromatosis, Jnl Clin Gastro. 6:539-534,  1984
Petersen, JM, Pierach, Ca, Hematin-induced Hemolysis in Acute Porphyria (Letter), Ann Int. Med. 101:877-878, 1984
Awad, I, Bay, JW, Petersen, JM, Nocardial Osteomyelitis of the Spine with Epidural Spinal Cord Compression - A Case Report, Neurosurgery 15:254-56, 1984
Petersen, JM, Primary Hyperaldosteronism, (Letter), Jnl Amer Osteo Assn, April, 1984
Petersen, JM, Salmonella Liver Abscess:  Report of a Case with Successful Computerized Tomography Guided Drainage and Treatment, Jnl Amer Osteo Assn, 83:496-501
Petersen, JM, Awad, I, Ahmad, M, Bay, JW, Mchenry, MC, Nocardia Osteomyelitis and Epidural Abcsess in the Non-immunocompromised Host, Cleveland Clinic Quarterly, 50:453-459, 1983
Petersen, JM, Baldone, SC, Sresthadatta, T, Paranasal Sinus Aspergillosis:  A Report of Two Cases and Review of the Literature", Jnl Amer Osteo Assn 81:549-553, 1982
Petersen, JM, Greenstein, SI, Imler, DL, Zvariable Dsygammaglobulinemia and Bronchiectasis, Jnl Amer Osteo Assn 79: 391-397, 1980
Petersen, JM, The use of a Polyflex stent to treat an iatrogenic esophageal perforation, (in Press)
Petersen, JM, Giant Brunner gland Hamartoma creating gastroduodenal intussusception, Gastroenterology & Hepatology, August, 2008
Petersen, JM, Klatskin-like Biliary Sarcoidosis: A Spyglass Diagnosis, Gastroenterology & Hepatology, February, 2009
Petersen, JM, McCallum, RW, The Medical Approach to the Treatment of Gastroesophageal Reflux, The Esophagus: Medical and Surgical Management. Hill, LD (Editor), Chapter 8, Pages 78-89, WB Saunders, Philadelphia, 1988
McCallum, RW, Petersen, JM, Prakash, C: Structural Disorders Of The Esophagus, Principles Of Gastroenterology And Hepatology, Gitnick, G (Editor) Chapter 2, pgs. 8-27, Elsevier Science New York, NY, 1988
Abstracts
Petersen, JM, Wolper, JC, Hemosuccus pancreaticus and Pancreatic Pseudocysts,: Am Coll Gastro. Meetings, October 1993
Petersen, JM, Choledochal Cyst and Other Biliary Anomalies, Amer Coll Phys, Florida Chapter, November, 1995
Petersen, JM, McCallum, RW, Sucralfate Delays Gastric Emptying of Solids and Liquids in Duodenal Ulcer Patients, Amer J Gastro Sept., 1985
Petersen, JM, McCallum, RW, Sherwin, RC, Somatostatin Inhibits Gastric Emptying Of Solids and Liquids in Man, Dig Dis & Sci 29:  655, 1984
Petersen, JM, Surgical clip Choledocholithiasis, Florida Chapter of the American College of Physicians, July, 2000
Southerland, JS, Petersen, JM, Valentine, JF, Clinical Efficacy of Infliximab in patients with Chronic Ulcerative Colitis, presented at DDW, May, 2002, San Diego, CA
Petersen, JM, Wireless capsule endoscopy:  The University of Florida experience, and a cost-benefit analysis. American College of Gastro. Annual meeting, October 21, 2003, Baltimore, MD
Etzkorn, KP, Petersen, JM, Double-balloon Enteroscopy in the Private Practice Sector, American College of Gastro Annual meeting, Oct. 24, 2006, Las Vegas, NV
Petersen, JM, Successful placement of a Polyflex stent across an iatrogenic esophageal Perforation, American College of gastroenterology annual meeting, October, 2007, Philadelphia, PA
Petersen, JM ,Trauble, M, McCallum, RW, Segmental Aperistalsis of the Esophagus - Another Cause of Chest Pain and/or Dysphagia, Presented at the Annual Meeting of the AGA May, 1985
Caride, VJ, Prokop, EK, Petersen, JM, Tronacle, FJ, McCallum, RW, Scintigraphic Method for the Evaluation of Colonic Transit, Presented to the Society of Nuclear Medicine, Houston, TX June, 1984
Etzkorn, KP, Petersen, JM, Double-balloon enteroscopy in the Private Practice Sector, presented at the American College of Gastro. Annual meeting, Oct 21, 2006, Las Vegas, NV
Petersen, JM, Surgical Clip Choledocholithiasis, Presented at the Florida Chapter of the American College of Physicians, Boca Raton, FL, 1999
Hernandez, L, Bhutani, M, Mishra, G, Petersen, JM, et al, Pancreatic psuedocyst fluid analysis:  An EUS study to determine malignancy, DDW, 5/02, San Francisco
Petersen, JM, Wireless capsule Endoscopy: The University of Florida experience, and a cost-benefit analysis. ACG annual meeting, Oct., 2003, Baltimore, MD